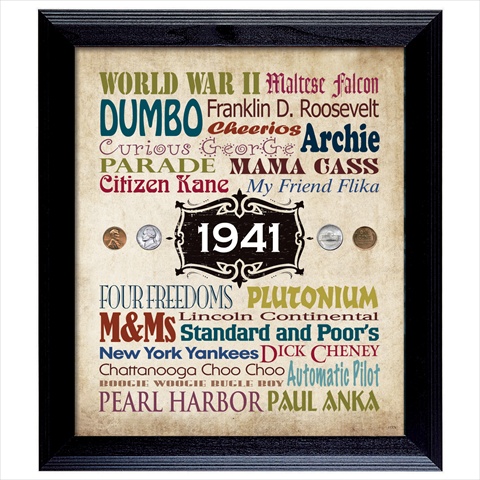 11376 A Year In Time Celebration Wall Frame Collection
Celebrate a birthday, anniversary or graduation with A Year In Time Celebration Wall Frame. American history shares a canvas with two authentic United States pennies and two nickels from the same year. Enjoy fun facts and memories of American culture nestled in a black wood 14 x 16 inch frame.<br><br>Sports, politics, news events, technology and retail facts are typeset in a pop fashion full of color surrounding authentic coins displaying the year of your choice from 1934 to present. A Certificate of Authenticity is included.
authentic US Coins.
Personalized with name and year!
Real Wood Frame.
One Year Manufacturer guarantee
Includes Certificate of Authenticity
Dimension - 14 x 0.50 x 16 in.
Item Weight - 2.13 pounds.
Sale price $24.50
Save on normal price of $31.85
---