On the day before the wedding it has almost become the done thing for the groom, and now also the bride, to let their hair down (figuratively speaking) in a final day of high jinks and fun. Traditionally the bachelor party was actually a way to ensure that the groom did not see the bride before the wedding, something that is still said to bring bad luck. It was also to stop him from any last-minute desertion before arriving at the altar.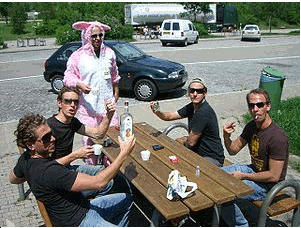 On this day (although often the party takes place at night) it is the end of bachelorhood for the groom and spinsterhood for the bride. Sometimes also known as a stag party, it is the time to say goodbye to friends as one approaches the threshold to a new life. Slightly untowardly, it is sometimes described as the end of freedom, particularly for the groom.
Today, the bachelor party to say farewell to being a singleton continues to be a ceremony of male bonding, and perhaps an excuse for the groom and his male friends and family members to meet around glasses and bottles. Partly due to tradition and partly because of the groom's friends encourage it, the bachelor party often involves some degree of letting down of inhibitions, although not all bachelor parties are this way. In this farewell to solitude, the hero is the future husband, but also the party is an excuse for his companions, whether married or not, to have a good party and live things up a bit as if it were their own wingding. The friends, are the ones who organize the proceedings and put together the components which will make the bachelor party a ceremony that can be remembered forever, and an example for other goodbyes to the single life, when tomorrow's groom will then become part of the entourage of the next groom to come.
The choice of locations for your bachelor party is varied, rich and can, if required, be quite suggestive. You can select from places with a more intimate atmosphere, clubs specialized in the organization of the wildest big party, restaurants with spectacles of all type: from magic to karaoke, through to the most erotic performances. However there are many great alternative ideas that combine fun with a bit of male bonding which can make the groom's last day or night together with his friends a fabulous event to remember.
The best ideas for an alternative bachelor party should take the groomís personality into consideration. For an outdoorsy guy, rather than just the usual idea of going to a club for a night, why not organise a day of paintballing or a trek through the woods or countryside culminating with a get-together around a camp fire (If youíre doing this the day before the wedding, you may not want anything too exhausting if though Ė you donít want the groom looking weary at the altar). If youíre near the sea, you could hire a yacht, take a few beers along and enjoy the freedom of the waves, maybe with a bit of fishing thrown in. Make sure the skipper stays sober though to ensure the groom isnít 10 miles out to sea when the moment of the wedding is suppose to occur! How about going go-carting for a bit of mini Formula One racing, or maybe enjoying a bit of quad-biking or kayaking. If you donít want to shoot each other in paintballing, you could try a bit of clay pigeon shooting together. Video game fans could organise a special marathon tournament of gaming, or sports fans could hire a special box to see their favourite team play in style.
You could even organise a video scavenger hunt where everyone has a video camera to film each other whilst gathering crazy items or carrying out a list of certain unusual tasks. After the hunt you all take videos back to someoneís place to play them whilst enjoying a few beers. It can be hilarious fun and a great bonding experience. If anyone is feeling creative the videos can later be edited into a single highlights feature video which can be presented to the groom as a wedding gift. Just make sure there are no risque bits in it Ė you donít want to upset the newly wed bride.
Use one of these ideas for a great alternative bachelor party to remember, or maybe this page has inspired you to think of something that uniquely suits the future groom. All it takes is a bit of imagination and you can find lots of interesting ideas for activities that donít necessarily have to involve strippers.