The civil wedding ceremony is characterized by its simplicity and sobriety. One of the main advantages of a civil wedding is that it can be far less costly than a lavish church wedding. Considering that these weddings are often celebrated in the morning, the bride can choose to dress in a short suit or jacket and the groom can dress a dark suit with a classic cut. Depending on the formality that you wish to give the occasion, you can be elegantly dresssed on your wedding day without going the whole hog and expense of a big traditional wedding dress.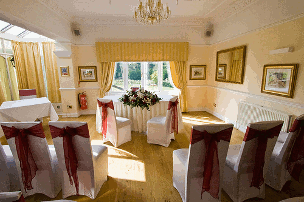 Civil Wedding Ceremony room at Fallowfields Country House Hotel near Kingston Bagpuize in England.
Picture by
Video4net
This special occasion is your wedding day, and you can choose to dress in whatever way you like. You can, if you prefer, follow the traditional garb of a church wedding and to go dressed in the customary wedding dress for the bride, and the tuxedo or similar type of suite for the groom. This may not necessarily make much sense though, unless circumstances forced to us to choose this type of wedding.
The civil wedding typically takes place in a courthouse or registry office, but has the added advantage over a traditional wedding that it can actually be held almost anywhere. This may therefore be the perfect choice if your dream is to have a beach wedding, or one held on a boat or somewhere unusual or unique. The ceremony is usually very short. Music for the ceremony is often in pre-recorded form like a CD or MP3, but a live organist or pianist may be present to give an added uniquely-live effect. Depending on the location, other musicians may be available too. If you select to have a beach wedding for example, you could opt for a steel drum band, or a CD or MP3s of tropical sounds.
In some countries like England where the vows at church weddings are a fixed set of promises where the words cannot be changed, there is the advantage that you can write your own vows at a Civil Wedding. Saying your own vows is a great way to let your partner know on this all-important day how much you love and are committed to them. If you prefer not to write your vows there are nearly always standard sets of vows which the courthouse will let you choose.
Like in the church wedding, at least two witnesses are required to be present and sign the documentation. In the case of civil marriage ceremonies, the dress of the bride does not necessarily have to be in harmony with the groom's clothing style, although it is recommended. After all, it would probably not be the best idea for the bride to be elegantly dressed in a exquisite and expensive outfit, with the groom to be in a football shirt.

Positioning of Bride and Groom in a Civil Wedding Ceremony
In the civil marriage ceremony, the way that the bride and groom position themselves in relation to each other is the same in the church ceremony. The legal consequences of the civil marriage are the same as those of the religious church marriage. For ecclesiastical purposes, the only difference is the sacrament of marriage, but before the law, both have the same effects and consequences