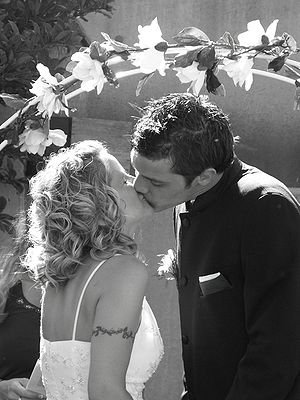 Some couples prefer not to prepare a list and like all of their presents to be a complete surprise. However, there are many distinct advantages of drawing up a wedding gift list.
All the gifts will be to the bride and groom's taste. As they have been chosen by the couple, they will fit perfectly with the decor and style in which they have decided to decorate and to furnish their home.
The duplication of gifts is avoided.
Gifts can be collected personally or taken home all in one go, without being receiving in different parcels all the time.
The store in which the gift list items are bought usually gives to the couple an extra gift of a discount off of the total price of purchases, which normally is around a 10% reduction.
Guests who reside in other cities can order their gift by calling the chosen establishment by telephone.
The store usually allows the couple to have the total of the value of the gifts pooled together so that they can acquire, in that establishment, items of greater value than they included in the list.
The couple know the exact value of the gifts received, and for what they can thank the generosity of their guests.
Making sure the Gift List is complete and obtaining Maximum Discounts
First it is necessary to decide if in the list we are going to include only decor items, furniture, electrical home appliances, houseware, etc. Based on this choice, a decision can be made regarding the selection of a department store or a gift shop for the purchases.
Remember that you can do your wedding gift list shopping in more than one single store. This will enable you to choose decorative items in a specialized store, and more functional gifts in another one. Even though you may split the shopping between two or more stores, the shops will still usually give some type of gift or special offer to you for choosing their establishment in which to purchase your wedding gift list items. You can choose where to buy from by selecting the shops which offer the greatest discount. And, finally, you'll need to make sure that sufficient space can be provided to display the chosen gifts. These days you can even make your wedding gift list purchases by the Internet.
For the sake of practicality, you should think first about the essential objects in a house before choosing the merely decorative ones. Thus you can start by including in the list glassware, silverware, sets of dishes, linen, kitchen appliances, domestic appliances, etc. For furniture and home decor, you will need to remember to measure and calculate the space required to fit these items in your home.