Image by Getty Images via Daylife
Whether you're rich or poor, or somewhere in between, there is a wedding to suit every pocket. The cost of a wedding depends a great deal on the number of guests and the class of the location for the wedding reception of meal, and the chosen menu. To give a number is complicated, but nowadays the typical total wedding cost ranges between $25,000 US dollars (20,000 Euros or £15,500 UK pounds) and $50,000 (35,000 euros or £31,000). The main proportion of this goes toward the wedding meal, which comprises more than 55% of the total cost on average. 11% is destined to be spent on the clothing, this being the wedding dress, groom's suit, shoes and accessories. Around 9% will normally go toward the honeymoon.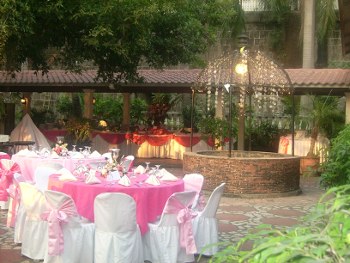 The Wedding Meal and Reception
Few couples scrimp on this part, as while other details can be unnoticed by the guests, if they have a bad impression of the banquet, the wedding may be considered a failure.
Therefore, the most important part of the budget is destined for the food, whose average cost for about 100 guests is usually at least £11,000.
In order to obtain an indicative budget for how much the total cost of the banquet will be, we can estimate that, on average, a meal and free bar will cost about $125 per guest, whereas the same items in a wedding with a higher budget would cost an average of $190 per guest. The wedding cake itself can cost between $200 to $600, depending on how many layers it has, and how fancy the design.
Drinks and a Dance
If the celebration is at night, there is no wedding that goes without music and probably a free bar too, although if you're looking to save costs, a bar where guests pay is normally considered acceptable these days in most countries, as long as there is at least a free drink included with the meal. If providing a free bar, the drinks usually cost an average of between $12.50 and $17 per person, although there are some places that will allow that the bride and groom to bring their own bottles of drinks
Your choice of music at the reception can be from a virtual infinity of styles and variations. You will be able to choose from a small orchestra which is likely to cost around $860 or quartet of Irish bagpipes charging around $550 to the town's municipal band who may only cost you a tip and a small aperitif.
Hiring a disc jockey to provide the evening with musical entertainment is a choice which has increased in popularity over recent years. A good DJ will cost around $600 for the evening. As all of these musical choices are around the same level of expense, the final choice is likely to be down to personal preference of the wedding couple and their immediate families.
The Wedding Dress and Groom's Suit

In order for the bride to go dressed white and radiant there will be a price to pay, which will typically be from $1,400 to over $8000. To this must be added the necessary accessories of a good purse, shoes and bouquet which adds up to roughly another $500. A good hairdo and makeup will add about $250 more.





The groom naturally must also dress for the occasion and, although usually in black and more humble his clothes will probably cost an extra $650.





Church Flowers, Music and Wedding Video Cost

The church, registry office or courthouse should be decorated for the wedding day. A few bouquets of flowers distributed around the place by the church or the court, will create a significantly better ambience at a cost of around $350. The accompaniment of the

Wedding March

will cost approximately $250. The special occasion will need to be immortalized, so you should prepare for a charge of roughly $1,300 to pay for the stills photographer and the photos. These days, a movie of the big day is desirable as well. The wedding video cost will be around the same again as the photography charges, in other words a further $1300ish.





If the budget allows, the rental of a good car or limousine will cost about $400.



The cost of a Honeymoon
This can vary considerably depending on the length of time, location and degree of luxury. Some couples may find it romantic to spend a week in an inexpensive cabin at a nearby lake. Others may decide to go to the other extreme and take a whole month or even more on a luxury cruise or take an exploration on an African wildlife safari. As an example in between these two extremes, the cost of an 8 day all-inclusive luxury honeymoon at Carribean beach would be around $3,500 plus you'd need to add a little more for a bit of spending money.
The Ultimate Wedding: Renting an Estate
Increasingly brides and grooms are preferring to celebrate its wedding in an exclusive location, away from the usual type of marrige, and choose an estate or villa which may have particular charm and enchantment, and which may be rented for the day.
The price averages around $20 per guest, although the majority of these facilities charge a standard tariff, regardless of the number of attendees. Such a standard tariff can typically be between $2500 and $8500.
If the plan is to hold the celebration in a garden, tents will be necessary, with costs which will vary depending on the grounds on which they are placed. If a platform and carpeting are required inside the tent, the cost can double. A normal tent, for one hundred people, with veil and curtains, costs around $1,500. If heaters need to be installed, this is likely to cost an extra $125 or thereabouts.


The company organizing the event is in charge of laying the tables and chairs with their respective adornments, as well as serving the food during the celebration, that is to say, an appetizer, lunch or dinner, snacks (sandwiches and party pastries) and tea, coffees or hot chocolate. The price of such catering will be from $100 upwards per guest.