Piglette aims to bring you the best free software available to download straight from the internet - Programs which work and really are fun to play.
Free programs will be regularly added to Piglette's free software menu page, which will be regularly updated, so please bookmark Piglette and come back soon to check out the latest addition.
This page features a great free shoot - em - up alien invasion game, Aggressive.
This is a highly enjoyable multi - level freeware game with numerous different types of alien invaders to contend with. Shoot the aliens with lasers or missiles. Your ship is able to move around the entire screen space - unfortunately, so are the alien invaders !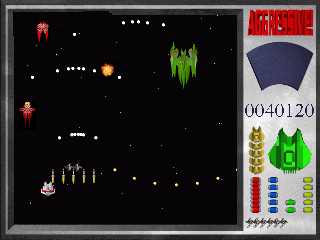 Sample Screen Shot.

Some of the ships of the alien invaders that you shoot down will contain bonuses which you can collect, for example extra missiles, shields and other surprises.

For a full sized screen shot of this great free alien invasion game, and system requirements, please click on the small sample screen shot above.

To download this free game, just click here - aggressive.zip 955 Kb.


Piglette's freeware games selection presents dating and romantic contacts. Find that special person for you.