Free Tetris Game Download
Play Multix - The Next Tetris
Multix, Revenge of the Squares is a downloadable Tetris game with a difference. In the classic Tetris game, all the falling pieces are traditionally made of only four squares or blocks (Tetra meaning four). However Multix goes far beyond convention. Although you can certainly play the classic style of Tetris with four blocks per piece, you also have the choice of playing the more challenging versions contained in this game:

Pentix uses pieces with one to five blocks (penta=five, x indicates that there are also smaller ones).
Multix includes all possible pieces made of up to 6 blocks, plus a few bigger pieces made of 7 to 10 blocks (multi=many).
Nuttix which uses all of the pieces of Multix, plus a few weird ones, is an even more difficult version and virtually impossible to play!

In Multix you can Mirror the pieces vertically, not just rotate and move them. The mirror facility can be disabled if you wish, for more of a challenge.


Download Tahni for free, your beautiful talking interactive screenmate
The pit where the pieces land has been extended from the original Tetris pit to 36 X 16 squares, this being necessary because of the larger pieces used in Multix. You can also play the Tetris and Pentix in the Multix game pit.

Multix is a very colorful game, featuring smooth falling animation pixel by pixel, and a choice of moving psychedelic backgrounds. The playing pieces can be colored individually or with the background patterns, or you can even color each individual square differently.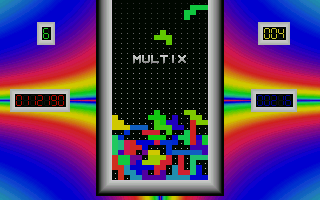 How To Play

Multix is played very much like Tetris. You need to move, rotate and mirror the pieces to try to form a solid horizontal line of blocks. The faster you drop the pieces the more points you will score. A full line of blocks will be removed from the pit by the computer, and the squares above will fall down, leaving space for more pieces above. The more lines you fill at once, the more points you get. The piece in the upright corner is the next piece. It moves a little bit lower and to the middle, when the previous one is dropped. You can still move, rotate and mirror the pieces for a small time after they have landed, for better positioning.

Click Oska to download him for free - your cute desktop buddy!

System Requirements

This is a conveniently small game to download, being only 106Kb so is perfect if you don't want to take up too much space on your computer.
A 386 processor or above is required (486DXn or better recommended), with a VGA card capable of resolution 320X200 in 256 colors.
This game runs under the DOS operating system (works with windows' DOS environment).
Unfortunately it will not work under OS/2 or Windows NT.
Multix comes in zip format. If you are not sure how to use zip files, check out Piglette's page on how to open zip files for an easy to understand explanation.


© Piglette