Zip files are simply compressed versions of normal files. Much of the software which you can download from the internet is in a zip format. This reduces the file size and therefore makes the download of software faster. Zip files also allow multiple files to be zipped together in to one zip file package, so that instead of having to download many different files, you can just download the one zip file. Then, you open the zip file, the multiple files can all be emptied out in their original format to one folder on your computer
So how do you use zip files? Well, you will need an unzipping program to use them. One of the best unzipping programs is a free-to-try utility called Winzip ...
Screen shot of a Winzip window.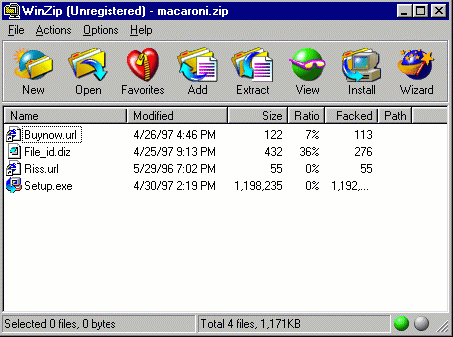 This window shows that the zip file " macaroni.zip " contains 4 separate "normal" files. It also shows how much file space was saved when the files were put into the zip file, for example File_id.diz was reduced in size from 432 bytes to 276 bytes when zipped, a saving of 36%.
You can download a free trial version of the latest version of the Winzip program from the Winzip home page. You can try it out for 28 days before the free period expires. At the end of this limited time trial you need only pay one small fee to be able to continue using the program to unzip or to zip files as often, and for as long as you like. Once you have downloaded the free-to-try Winzip software, the easiest way to use it for most programs is to set it to Winzip "wizard" mode. Then, when you double click on any .zip file held on your computer, the Winzip software will automatically unzip the .zip file and place the unzipped file(s) into one separate folder.